If you work in an Digital Advertising Agency, you've probably debated best practices for setting up Google Analytics Accounts for Clients. And there are two main opinions
The choice is either:
(a) create a separate individual account for each Client, or
(b) have your master Google Analytics account and add a new Property for each Client.
The first makes the case that each client's GA account is their own asset, and supports a clean separation between each Client (i.e. the "Each Client has their own Account" rule).
The other opinion counters that if each Client has their own property under your "Master Account", you can just grant your Clients access to that property (i.e. the "Master Account" rule).
In this Article, I'll explain why I believe you should always aim for clean separable accounts, and how to set that up.
TL;DR Give each Client their own Account
The data belongs to the Client.
Each Client should have their own account.
It's better for both parties to be able to walk away cleanly.
How to set up Admin Access for Google Analytics
Email template (exact text instructions) to request GA admin access for your Client
Plus, how to set up shared GA Admin Access for new Clients that don't have GA setup
Analytics for Agencies: What are Best Practices to set up Client accounts?
Your Client should then add you to their Google Analytics (GA) account as an Administrator.
In the unlikely even that your client doesn't yet have Analytics set up, just ask your Client to signup for a Google Analytics account, and then get them to add you.
Why should my Client own the Google Analytics Account?
Because, if later they choose to switch to a different agency, this will allow your Client to remove your access. Its better they have control.
Admin Access: Does our Digital Agency need to own the Google Analytics Account?
So long as you have Administrator rights (i.e. Manage Users + Edit, see below), you will have the same access.
But if we Own the Account, won't our Clients will stay with us?
Don't waste a second thinking about this. Your client will stay with you because you do an awesome job and create loads of value for them with the (Adwords or Facebook or Content) Campaigns you run for them. Period.
CASE STUDY: How one Adwords Agency grew Sales 27%
Discover how one Adwords Agency almost doubled their efficiency by tracking and optimising Adwords Campaign Conversions easier and faster.

(As well as showing clients how their campaigns create value.)

They now serve more clients, better, and faster--
boosting sales a whopping 27% .


Google Analytics admin access: How does Your Client give you access?
Its easy for your Client to provide your Agency with Google Analytics admin access, and takes a few seconds.
Open the Admin Tag, select Account, select User Management, and enter the details. Ensure your client selects Manage Users and Edit.
Manage Users will allow you to later add team members of needed.
Edit will enable you to use Google Analytics (includes Collaborate and Read & Analyse)
Email Template: Request for Google Analytics admin access
Here's the email text you can shoot top your new client: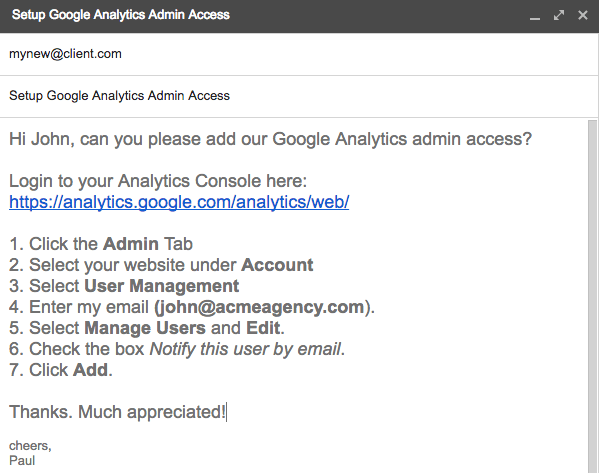 Here's the exact text if you want to Copy&Paste into an email:
SUBJECT: Setup Google Analytics Admin Access
Hi John, can you please add our Google Analytics admin access?
Login to your Analytics Console here:
https://analytics.google.com/analytics/web/
Click the Admin Tab
Select your website under Account
Select User Management
Enter my email (john@acmeagency.com).
Select Manage Users and Edit.
Check the box Notify this user by email.
Click Add.
Thanks. Much appreciated!
Google Analytics Admin: Alternate Account Setup if Client doesn't Have Analytics
If your Client doesn't already have Analytics, an alternate is to create a new Gmail account to share with your Client, e.g client.analytics@gmail.com. You would then create a new Google Analytics account with that Gmail account.
Once that email has been set up you can also add team members from your Client and your Digital Agency (as explained above).
This can be more convenient for the Client, as effectively you are doing all the setup work (and providing a great service).
Plus, this method allows you and a clean exit from the account should the Client ever change agency.
UPDATE: (Hat tip to Sam Steiner for this one!) You can now transfer Properties from one Google Analytics account to another.
This means you can set up a Property for your client in your Agency Account. And THEN, when everything is setup you can transfer that property into your Clients' account.
According to Google, you'll need to have privileges in BOTH accounts to make the transfer, and you can read more here.
NOTE: The GA tracking ID (e.g, UA-12678-1) is unchanged, so you won't need to retag your Clients' site.
P.S. Want Easier Conversion Tracking for your PPC Campaigns?
Do you run Paid Ads on Facebook or Adwords and need Conversion Tracking without a Thank You page..?




You know those tricky
Contact Us and Lead-gen forms,
Email opt-ins, pop-ups, Multi-Step Forms etc?
So, how do you track a goal or conversion if the URL doesn't change?
Click below to find out how.




Ok, we've reached the end. Thanks for reading, and if you liked this, this I'd appreciate shares and retweets.
As always, if you think I've missed something, or if you disagree with something I've said, please leave a comment below.
And if you don't want to miss my next post just leave your email here or drop it in the box below.