Want to boost your growth?? You'll never run out of ideas again with these golden growth hacking tips, tactics and techniques from the Distro Team at [500distro.co](http://www.500distro.co/" target="_blank).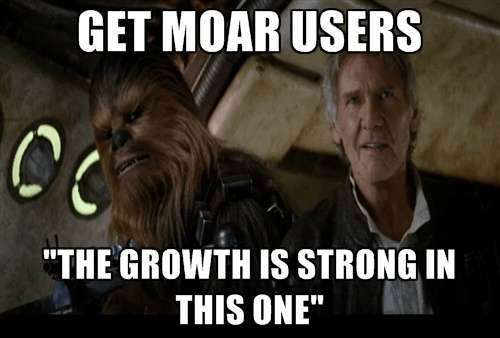 This is a compilation of the daily Distro Snack emails in a handy reference. A HUGE THANKS to the 500 Distro team - we totally love you!!!
We started compiling the Distro Snacks of 2015 so we could literally check each off tactic as "done" or "todo". But we realised others would probably enjoy having all these great growth tips (thanks 500 Distro team - we totally love you!) in a handy reference, so without further ado, here is a compilation of some of the best [Distro Snack](http://500.us7.list-manage2.com/subscribe?u=79dc9a3284790af0567d6845f&id=b52998a3a5" target="_blank) tips of 2015 all in one place for your easy reference.
Read them all. What worked for you? Pick your favorite and tell us in the comments. Or add a NEW hack to share.
Most importantly, TRY as many of these tactics as you can and let's make 2016 YOUR year of rocketing growth. Enjoy!
200. Distrosnack: Landing Page Leak
Your landing page isn't Wikipedia. Stop trying to add extra links and randomness.
Ratio of things you can do on page, to the number of campaign conversion goals (hint: only ONE GOAL) –> 1:1.
199. Distrosnack: Private Beta
Private beta lets you test your marketing plan, not just product.
seed social proof / testimonials

incentivized pool for insights interviews

build out your support database

learn key product benefits / unique selling point from USERS' perspective not just yours
198. Distrosnack: Shorter Funnel?
The shorter your funnel, the bigger your ego.
Media buying is a bidding process. The player that can extract more value from a given click — because it has more opportunities to sell to that click within its funnel — can afford to pay higher bids and get more traffic.
197. Distrosnack: Steal These Ads
Amazon books, Upworthy, and Digg are headline & copy leaderboards.
Let the pros test ur words before u write ur ads.
196. Distrosnack: Content Marketing Checklist
Blogging? Few simple things to get more mileage:
BASIC
Title goes in an H1 tag
Internal links to ur other existing content / posts
Outbound links to high quality authoritative pages
Tell a story, don't force a sale
Includes AT LEAST 3 - 5 images, including a highly engaging 'featured' img for social shares
BETTER
DATA-backed. Presents unique data where you're the source
Long / thorough. Unless you're Seth Godin, 400 words is not a good post to leads/readers/Google.
Features influential/networked person, company or subject to piggyback / co-market.
195. Distrosnack: Buyer Persona
Buyer personas — the archetypes of the customers you're targeting and THEIR needs/wants not yours — should dictate every word and image on your site.
Who you're selling to
What's their problem
What do they need
What do they think they need
What are their objections
What words do they use
Map out personas: interview existing customers / beta group, read thru forums, Twitter #search your keywords.
People care about themselves and their problems, not your cool company.
194. Distrosnack: No Traffic
No traffic, no customers, no problem.
Can still test / optimize with user testing:
Ask 10 real ppl u know from target demo to use ur product while you observe

Broader scale / mass market tests with Usertesting.com

Topic forums + $25 Amazon gift card to find addnl testers in ur niche
193. Distrosnack: Most People Bounce
Ads working? Most people bounce.
FB retargeting pixel

Campaign-specific landing page

Offer they can't resist — promo, free, now.
192. Distrosnack: Big Press
Big Press? The biggest publishers on the web:
rely HEAVILY on other sources 4 credible content to syndicate

are BUSY.
Contacting ppl from best-known news sites can be a long-shot.
Instead, track who they're linking out to every week (or scrape external links) & go straight 2 the source.
191. Distrosnack: Comparison Landing Page
Steal ur competitors' customers w/ comparison landing pages:
Market positioning matrix - show where ur product / brand stands in relation 2 competitors'

Comparison table — side-by-side compare features, pricing, support, integrations

Calculator - interactive price / savings, integration time etc
190. Distrosnack: Mobile First
Depending on ur channels, u could be seeing >50% of visitors to your most creative content coming from mobile (even if mobile use is way lower on the rest of your site).
People most likely 2 share your content are most likely to encounter it on mobile

Much of the actual sharing will happen on mobile

When something is shared via a mobile channel (email, Facebook) it's ALSO most likely to be received on mobile

This loop DECELERATES when the content performs poorly on mobile
Don't just make it mobile responsive, make it mobile FIRST.
189. Distrosnack: Free SEO Tools
Keywords for FREE:
188. Distrosnack: Be The Expert
Getting interviewed by bloggers / podcasters gets visibility & traffic for your product, and positions u as the expert in ur category.
3 quick searches 2 find interviewers / platforms u should be on:
Twitter search: [your keyword] AND expert AND interview

Google or iTunes searches: [known expert in ur category ] + interview, [topic] + interview
187. Distrosnack: Funnel's Leaking
While measuring your overall lead-close rate is important, it can be difficult to identify specific ways to improve it without involving other data.
Use ur CTR on a specific call to action 2 see if weaknesses in your lead-close rate are coming from ur content & marketing, or your sales process.
186. Distrosnack: UTM Cleanup
UTM tracking — r u doing it right?
utm_campaign: launch, xmas_sale, retarget etc
utm_source: twitter, fb, newsletter, influencer blog, press etc
utm_medium: email, social, cpc etc
utm_content: the call-to-action - buy now, learn more etc
utm_term: 4 ur paid search keywords
Never UTM internal links b/c you'll lose ur tracking info.

Tools: [Google URL Builder](https://support.google.com/analytics/answer/1033867?hl=en" target="_blank), spreadsheet, [Terminus App](https://www.terminusapp.com/" target="_blank), Bit.ly
185. Distrosnack: CTA Copyhack
A great rule of thumb when writing a call to action is to make your button text complete this sentence:
"I want to ___."
You'll end up writing CTA in the 1st person ("I") — uncomfortable at first but often the more uncomfortable your copy makes you, the more likely you're doing it right.
184. Distrosnack: Influence the Influencers
Good content marketing influences not just ur customer, but those who influence ur customer.
Influence the influencers:
Review them / list them / mention them / INTERVIEW them
And always link out.
183. Distrosnack: Click Trigger
Use click triggers 2 reduce objections and anxiety pre-conversion.
Reassure the click, minimize the risk.
Testimonial, review, tweet, data pt, guarantee, payment icons, or reassure price, privacy, security
NEAR or next to your CTA
182. Distrosnack: Get User Reviews
Listings with reviews provide a better user experience, and Google loves a good user experience.
Get at least 5 Google+ Local reviews:
Ask for them.

Make it EASY
Handy (free) tool: https://www.whitespark.ca/review-handout-generator
181. Distrosnack: Facebook 4 Free
For B2C you can still get free customers on Facebook, but publishing "Buy our product!" posts is no longer enough.
U also need:
GREAT staff focused on engagement

content marketing strategy w/ FB as amplification channel

clear path to move visitors thru ur funnel.
For those who can plan this kind of strategy and have strong P/M fit, it's still very effective. For others "free Facebook" is probably no longer a good marketing channel. Just like SEO has become more competitive, so has the newsfeed.
180. Distrosnack: Marketplace Funnel
Every marketplace deals with their customers going around the platform, a small amount of disintermediation doesn't really matter.
Look at each stage of ur funnel, focus on drop-offs.

Compare where users are disintermediating against your value props (or having other issues w/ activation) & make sure your value is (a) clearly explained and (b) actually true 4 users.
Focus on adding more value rather than policing ur customers.
179. Distrosnack: Mobile Installs
Moar mobile installs:
Have a great product.

Incentivize installs. Vendor list — http://www.quora.com/Who-are-all-the-providers-of-incentivized-installs

User reviews averaging 4+ stars

WOM, press, partnerships

Optimize ur app name, keywords, icon, description, tracking, and updates. Cheatsheet — http://bit.ly/appcheatsheet
178. Distrosnack: Lead Per Keyword
Which keywords should you optimize?
Measure # of leads generated by target keywords

Look 4 keywords that are doing well, but for which you aren't ranked highly in the SERPs

Optimize content AND landing page relevancy (note: irrelevant landing page scares off conversions) around these keywords and get more organic leads.
177. Distrosnack: Blog Opt-in
Want MOAR blog / newsletter subscribers?
Incentivize opt-in: guide to __, template, survey results

For a few hundred $ or $1k, drive traffic 2 ur incentivized opt-in page to jumpstart subscribes.
176. Distrosnack: Hashtags Actually Work
Relevant hashtangs = moar reach. Tailor by channel:
Tweets with 1 to 2 hashtags get 2x more engagement (clicks, retweets, favorites, replies)
FB no more than 2 tags
Instagram 10+ no problem
Google+ incorporates # into search & comments
175. Distrosnack: Wrong Content
Right content vs. wrong content: both take the SAME AMOUNT of time & effort to make, but only one gets shares / traffic / conversions.
Make the RIGHT content:
Identify the influencers in your product category (look @ total network reach, follower/following ratio, engagement levels, # of channels they're active on)

Create VERY GOOD content on topics they're already sharing

Use share triggers
174. Distrosnack: Share Triggers
Build in share triggers BEFORE u make ur content.
Informative / newsworthy makes sharers look smart / current

Unique or exclusive data or results helps sharers look insidery

Funny / silly gives them a free LOL for their friends

Mention / quote / intvw / case study them for a guaranteed share & support from their network
173. Distrosnack: Twitter Leadgen
Use Twitter leadgen cards to turn followers (lower value) into email subs (higher value).
Include a CTA button in the image itself 4 better conversion

Reach your own followers for FREE, pay 2 reach non-followers

[DISTROSNACK example](http://www.500distro.co/" target="_blank)

Be clear, have a privacy policy, never spam.
172. Distrosnack: What 2 Charge
Your value metric is WHAT and HOW you're charging.
If you're strictly charging per user, per month, or per hour, you're probably losing out already. Your product may not provide more value with additional users, so charging for them doesn't always make sense.
Good value metrics:
Align to customer's actual needs

Are easy to understand

Grow WITH the customer, giving u growth even if/when acquisition stalls.
171. Distrosnack: One Thing a User Must Do
What's the ONE THING a user must do to see the value in your product?
Activation is the first point where you deliver the value you're promising. Good activation is getting non-paying users to see / experience the value immediately, then consistently.
170. Distrosnack: Email Pre-targeting
Cold email list or need to promote something REALLY important?
Warm up your list with email pre-targeting for brand awareness BEFORE u blast:
Set up re-targeting campaigns on FB Custom Audiences, Twitter Tailored Audiences, and/or Gmail Adwords

Focus campaigns on brand awareness; don't make a "hard sell" CTA

Send ur sales email blast / announcement / launch with CTA

Retarget un-opens
169. Distrosnack: Less Bounce
Less bounce, more conversions:
Tailor ur landing pg to the campaign / offer / language that brought them in

Target your pop-up or Hellobar value proposition to the content on that pg
168. Distrosnack: LeadGen Tool
No one cares about your blog posts?
Do leadgen with interactive content (TOOLS):
167. Distrosnack: Little Optimizations
Growth is an all-sum game.
If u run them fast enough, little optimizations add up 4 ur conversion rate optimization. Not "either/or," but "first/then."
166. Distrosnack: Open Rates Making U Weep
It might not be what u think.
Test the spammyness of your emails:
165. Distrosnack: GIF Secrets
Stock photos? U can do better.
Source and edit images 4 content marketing:
Google Image search on lateral terms, Pixlr, Piktochart, Canva, AwesomeScreenshot, Giphy, BuzzFeed.
Or, MAKE UR OWN.
Distrosnack CTA Example:
GHOST_URL/content/images/2015/12/distrosnack-cta-goes-here.gif
164. Distrosnack: Custom Audiences Hack
Use FB Custom Audiences to run even MOAR targeted ads w/ UTM filtering:
Set up unique UTM params for each ad you're making (Google URL builder)

Create new Custom Audience: "People who visit specific webpages" > "Url contains" > [utm value here]

Retarget that audience w/ the ads they haven't seen yet
163. Distrosnack: 90% Open Rate
90% of text messages are read w/in 3 min of delivery.
"Retarget" ur email list w SMS:
Export unopens -> text them

Reminder to activate

Promo / deal to engage or reengage
Be valuable not annoying, always include a call to action, and LINK DEEP.
162. Distrosnack: Landing Page Rule
Look at the ratio of things that you can be do on a landing page vs the number of things that you should be doing.
As attention ratio goes down, your conversion rate goes up. Exception: multiple links with the same goal.
Worship information hierarchy. What do people want? Put that first, draw attention to it, remove everything that's not important.
161. Distrosnack: Conversion Rate Fix
Conversion rate optimization is overrated.
Solution:
Throw more traffic at ur landing page
Some of it will filter thru
Don't sweat cost per click, that's what the funding's for
JUST KIDDING.
Convert moar users. FIX UR LEAKS.
160. Distrosnack: Negative Reviews
Ppl usually decide to rate the app b/c they want to give it 5 stars or 1 star -- so timing is crucial when asking for reviews:
"One thing that we found a Zynga that worked really well on both sides is if someone has a really good experience, say they just won, we'll prompt them with the rating right then.
On the other side, if we know a user crashed recently, we will not show a ratings prompt, no matter what."
159. Distrosnack: Good Design
Good design is about its ability to do work. It doesn't have to be "pretty," it just needs to do its job.
Always Be Testing — you don't have to like what wins, you just have to like getting results.
158. Distrosnack: Forgotten Page
Don't think of your Thank You page as a throw-away just because the user completed your desired action:
confirm reg details
invite friends
get the mobile app
157. Distrosnack: Success Gap
A Success Gap is when users functionally complete the target action in your product, but still fail to reach their desired outcome.
— sends an email thru ur email mating tool but no one opens that email
— tracks a bunch of metrics but don't optimize their funnel from there
— makes an ad campaign but no one clicks the ad
Get them to their desired outcome -> gets you retention + referral: training webinar, blog series, onboarding drip campaign.
156. Distrosnack: Power Words
Sale
Off
Now
New
Instant
Free
Your
Be the first
Remember
Un-power words: hurry, look inside, groundbreaking, guaranteed, once in a lifetime.
Segment, track and ALWAYS TEST UR OWN.
155. Distrosnack: A/B Cleanup
A/B tests all over the place? Correct order of operations: TALK TO CUSTOMERS, identify issue, theorize cause, hypothesize fix, design test, run.
154. Distrosnack: Growth Toolkit
Segment (aggregate / integrate all your analytics)
Intercom (event-based email and in-app messaging)
Buzzsumo (research the best keywords and phrases for inbound/content marketing)
ToutApp (send tracked 1-to-1 emails)
UserTesting (qualitative UX testing with real users)
SimilarWeb (traffic source comparison aka spy on competitors)
Import.io (data harvesting)
Unbounce and Instapage (two words: SMOKE TESTS)
Popcorn Metrics (push website data direct to tools like Segment, Intercom.io and loads more marketing/analytics tools.) Oh - we added that! thats us! that's not distro. that's really us! :)
153. Distrosnack: Google Analytics Protip
Know who ur users really are (not just what they're doing on ur site).
AFFINITY CATEGORIES = lifestyle preferences of website visitors.

IN-MARKET SEGMENTS = product-purchase interests of your visitors (what ur visitors are currently actively researching & purchasing).
How 2 turn these features on https://support.google.com/analytics/answer/2819948?hl=en
152. Distrosnack: Letter from the CEO
There's nothing more powerful 2 distribute ur company's message than the actions & words of its CEO.
If ur a startup, ur founder/CEO has just as much clout to ur customers as a large corporate has to its — just a matter of degrees.
Use ur "VIP" to deliver key msg or campaign:
Email marketing
Blog post
Video
Appearance in an ad
151. Distrosnack: Track Everything
No actually — DON'T.
What are ur CORE lifecycle events?
What KEY pages / actions link to those events?
Track only the events u use 2 make decisions, start with THREE, only add more later.
Got a new growth hack to add? I'd love to hear it. Tell us in the comments below.